Albion Establishes 'Albion Achievement Endowed Scholarship' at Five Universities in Georgia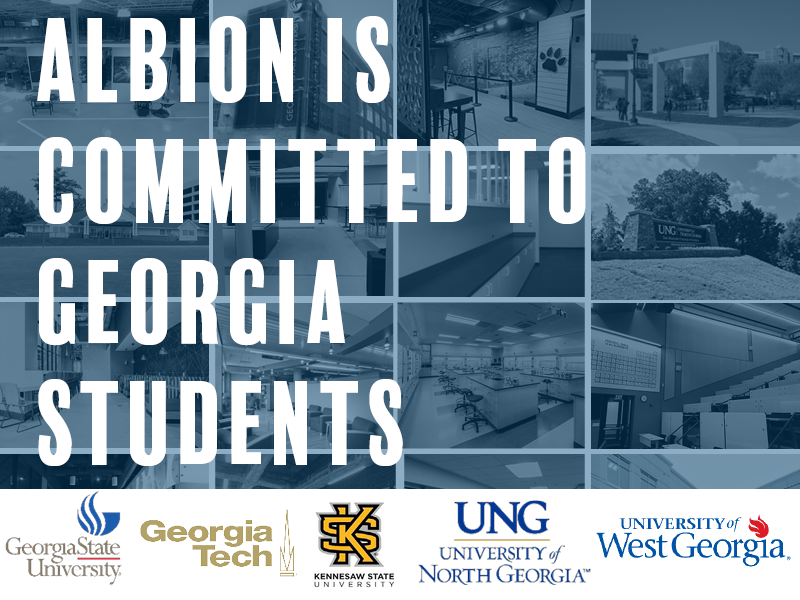 In today's social climate, it is vital for us as a company to look inwardly to see what we can do to help our society.
To bring change.
To make a difference.
To have a lasting impact.
To whom much is given, much will be required. Albion has been very blessed. We recognize that we have a civic and moral responsibility to reach out and lend a hand in our community.
After much reflection, we have determined that supporting university students is a direct way we can make a difference. These students are facing the unparalleled challenges of dealing with school closures caused by COVID-19 along with experiencing the racial tensions that our society is currently facing. It has been heartbreaking to witness the impact that this year has had on these students, and we felt called to explore ways to positively support them.
As a result, Albion has established endowed $25,000 scholarships at the following five schools: Georgia State University, Georgia Tech, Kennesaw State University, the University of North Georgia, and the University of West Georgia. These scholarships will live in perpetuity and will help students for many years to come.
The Albion Achievement Scholarship(s) being announced today will go to supporting low income students to allow them to worry less about their finances and focus more on achieving college completion. This investment is about building promising futures for our students.
We look forward to the encouragement and hope that these efforts may bring to so many affected by this time in their lives. We commend our peers in the industry who have done the same, and we hope that everyone will explore ways that they may use their time, talent, or treasure to support positive change.